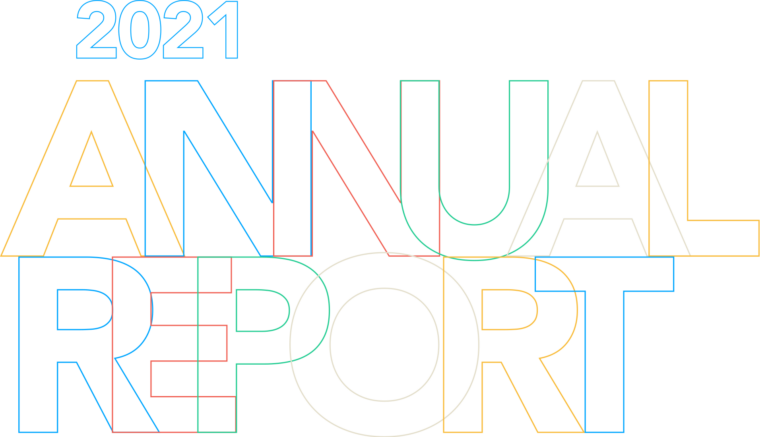 Dear Friends,
For over a century, the Federation has worked to identify and address the most pressing issues in our community, and this past year was no different. If there is one phrase that sums up Jewish life in 2022, it's rising to the occasion. Thanks to your generosity, compassion, and concern, our community stepped up to support Ukrainian Jewry, confront exacerbated mental health needs due to the pandemic, advance racial justice, and keep us strong, connected, and prepared for the future.
Whether through the Annual and Centennial Campaigns, Ukraine Emergency Fund, donor-advised grantmaking, impact lending, or giving circles, your support was critical during an unforgettable year. Each gift and grant reflects the values we hold dear as a community and pass on to future generations—tzedakah, tzedek, kehillah, and tikkun olam.
The Bay Area is a place where innovation and entrepreneurship thrive and where new ideas often emerge that change the world. As a center for Jewish philanthropy, the Federation is leading the charge to solve some of the toughest, most complex challenges our global community faces, from protecting democracy to climate change. As a 21st-century institution, we're consistently evolving to meet the needs of our community by caring for the vulnerable, fighting antisemitism, and creating resilience in the face of uncertainty.
On behalf of the Federation, we thank you for your generous support in the last year. This report offers insight into your impact on Jewish life and beyond. We are grateful for your longstanding partnership, a reflection of the meaningful and inspiring work we do when we unite as a community.
With sincere appreciation,


GIVING TO AND THROUGH THE FEDERATION PUTS $203.48M INTO THE COMMUNITY
Dollars allocated (locally and globally) through grants and programs.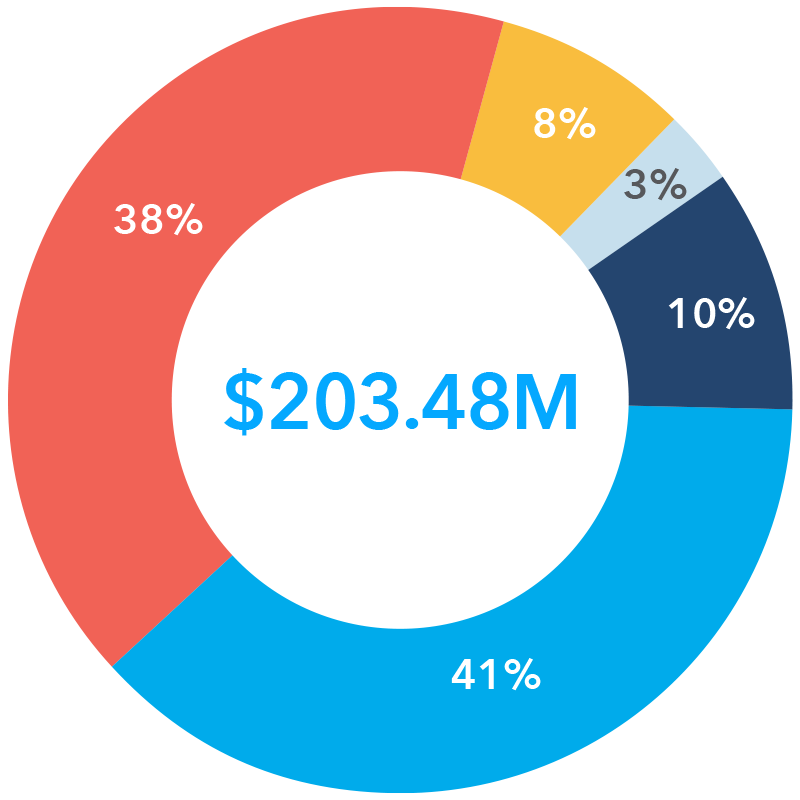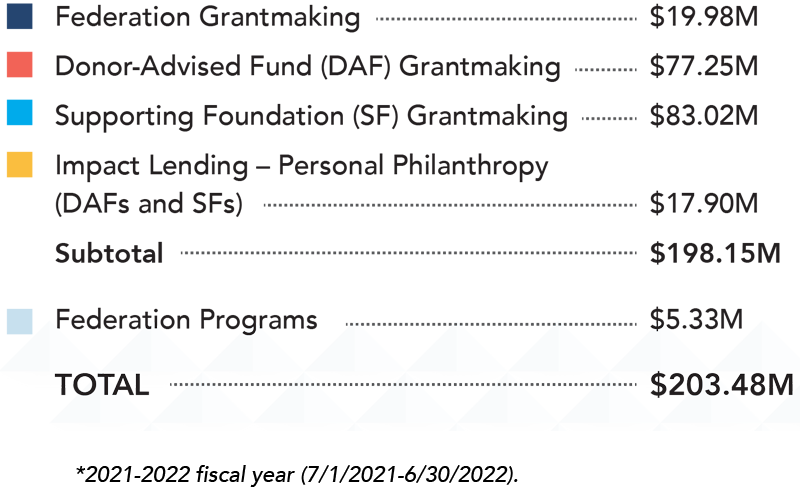 CONTRIBUTIONS DURING THE 2021–2022 FISCAL YEAR
EMPOWERING OUR COMMUNITY TO BE A FORCE FOR CHANGE
The Jewish values of kehilah (community), tzedakah (giving with just intention), tzedek (pursuing justice), and tikkun olam (repairing the world) are our collective North Star, guiding and informing our philanthropy advisory work. The Federation offers Donor-Advised Funds and supporting foundations, innovative ways for individuals and families to maximize their impact while inspiring collective change.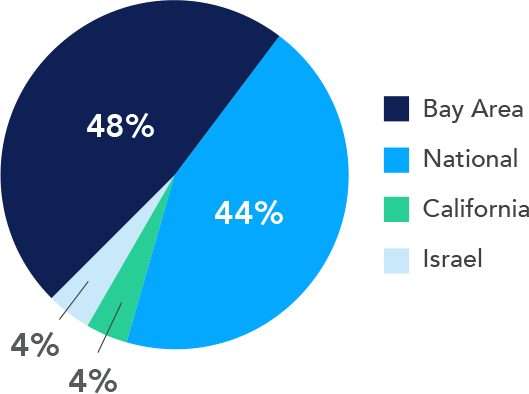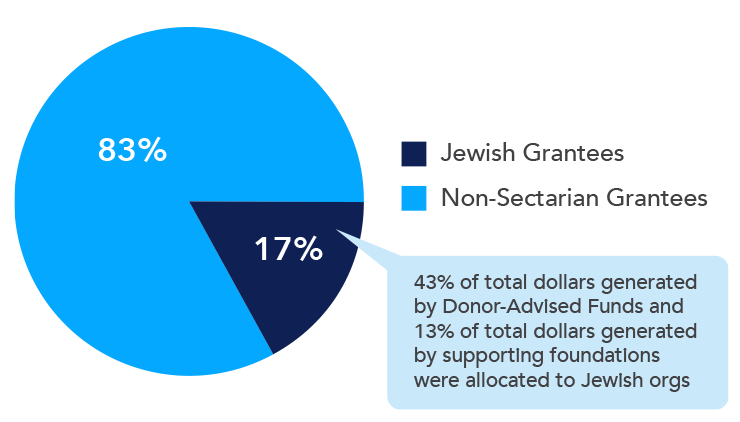 GRANT DOLLARS BY TOP 5 THEMATIC AREAS






1. Jewish Community Federation and Endowment Fund
2. Jewish Family and Children's Services
3. American Jewish Joint Distribution Committee
4. KQED
5. Jewish Community Relations Council
6. Congregation Emanu-El
7. San Francisco Jewish Comm Publications
8. University of California Berkeley Foundation
9. Congregation Beth Am
10. HIAS
1. Jewish Community Federation and Endowment Fund
2. University of California San Francisco
3. Congregation Emanu-El
4. PEF Israel Endowment Funds
5. Jewish Family and Children's Services
6. University of California Berkeley Foundation
7. American Jewish Joint Distribution Committee
8. Stanford University
9. Jewish Community Relations Council
10. Oshman Family JCC
ENDOWMENT GIFTS HELP ENSURE THE JEWISH FUTURE
The Federation works one-on-one with donors to create their legacies. The result is permanent funding for the community, enriching Jewish life for future generations.
in assets managed in the Endowment, including $36M in contributions made this year to existing funds, or to establish new funds

in grants from the Endowments contributed to the well-being of the Jewish community, supporting Federation programs, addressing a broad range of causes in the Bay Area and Israel, such as Jewish special education, arts and culture, leadership development, seniors, and financial aid for Jewish preschools, day schools, and camps
GIVING FOR THE GREATER GOOD
The Centennial Campaign is a special initiative of the Federation to safeguard the future of the Jewish community. More than $220M has been raised since 2010 from 377 individuals and families. Gifts support the Federation's Endowment, endow the Annual Campaign, and bolster causes most meaningful to donors.
The Annual Campaign helps us invest in Jewish life, for today and the next generation. It enables the Federation to provide meaningful partnerships with local institutions, support security and preparedness, make Jewish experiences accessible and affordable, increase mental health resources in the wake of the pandemic, and inspire Jewish youth to find meaning in the values and traditions of Judaism. The 2022 Annual Campaign raised $18.2M from 4,700 donors.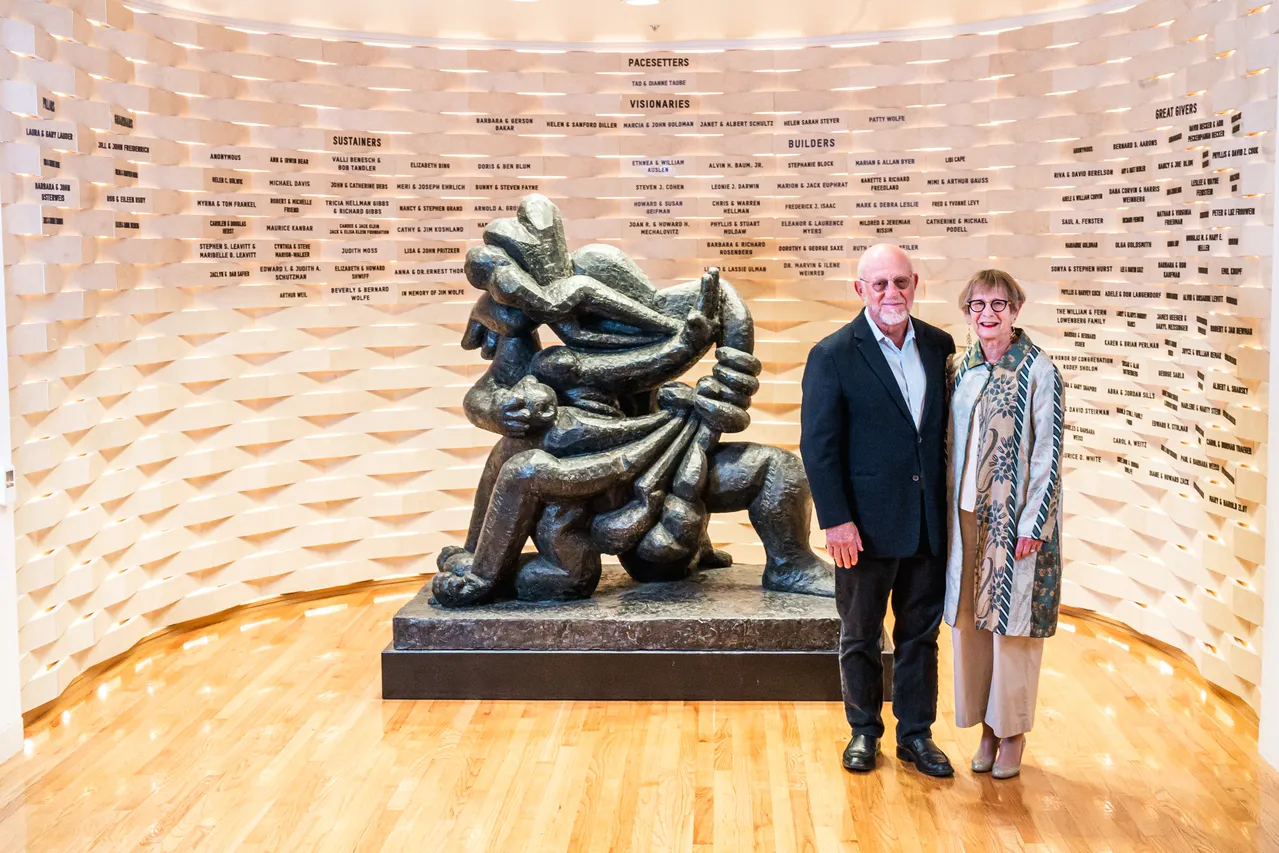 Ensuring community security
The Federation's Community Security Program builds on two decades of experience supporting and leading Jewish community security efforts in the Bay Area. The program secures and prepares our community organizations, especially during this time of rising antisemitism, political division, and uncertainty in which we live.
made their spaces more secure
synagogues and
organizations
received security consultation
secured for state and federal grants,
assisting 25 organizations
It can be difficult to feel safe in our communal spaces during times like these. And while law enforcement works to protect the Jewish community and the public at large, a sense of security comes not only by trusting in the abilities of the police, but through education, collaboration, and self-empowerment.
That is what the Community Security Program is doing for so many in our community who feel increasingly vulnerable to violence. Through the Program, the Federation facilitates an array of services and support, including training webinars, grant application guidance, site assessments, and security consultations tailored to the specific needs of the organization.
Training webinars provide synagogues and other Jewish communal organizations with invaluable instruction on active threat preparation, while allowing them to maintain openness and inclusivity. Congregation Netivot Shalom was the first of many Bay Area synagogues to schedule a webinar to provide training for 150 constituents. The Program also provided the synagogue with successful grant application support and advice on implementing new security protocols.
Immediately after the horrific Uvalde school shooting, the Gideon Hausner and Brandeis SF schools engaged the Federation to train their staff. Moreover, the Program team helped Oakland Hebrew Day School successfully navigate the process of applying for California's nonprofit security grants.
The Program's holistic approach to safety helps keep our community connected, resilient, and prepared.
Advancing Jewish continuity through education
The Federation's Jewish Day School Growth Initiative created opportunities for families to connect with Jewish experiences and each other. Our investment in Jewish day schools increased the number of students who were able to attend while maximizing the institutions' critical role in communal Jewish life.
in scholarships for Jewish
experiences, including Israel travel
participated in the Early Childhood Education professional development conference
received free Jewish books through PJ Library
"When people ask me what the most difficult challenge is that I've faced, my answer is: serving as the board president of my kids' Jewish day school, South Peninsula Hebrew Day School (SPHDS). Managing a board of directors, fundraising, and building relationships with stakeholder groups including parents, teachers, and the community is never simple. And though the pandemic added unique challenges, the work has been very rewarding.
My mission, and it's one the Federation shares through their Jewish Day School Growth Initiative, is to do whatever I can to assure that the day school education product is at the same level, if not better, than our free public school counterparts, and competitive with other private schools while being affordable to all.
If our day schools offer excellence and affordability, we will be able to offer a Jewish education to everyone in the Bay Area who wants it.
During the pandemic, the Federation provided additional scholarships to help families with financial hardships and subsidized the influx of public school students. Many of those students stayed with us, even as COVID's day-to-day impact waned. With the Jewish Day School Growth Initiative, I'm convinced we can make it more and more feasible."
– Barry Berkowitz, board president at South Peninsula Hebrew Day School
Prioritizing mental health
The pandemic amplified an existing mental health crisis—so much so that in 2021, organizational leaders identified loneliness, isolation, and mental health as top challenges facing the people they served. Through grants and training programs, we expanded access to mental health assistance and connected individuals and families to helpful resources.
and 26 educators shared a clinical consultant for 8 months
young adult and
youth professionals
trained in mental health first aid by Jewish LearningWorks
attended mental health workshops
trained as peer counselors for the Teen Talk app
Thanks to you, the Federation strengthened the support system for youth in our community and armed them with tools to guide them in their emotional wellness.
One way we did this was through JBridge, a website spearheaded by the Federation's Teen Initiative, which helped Jewish teens find and pursue their passions while connecting with like-minded peers. As a hub of opportunities for Jewish youth and the people who care about them, the site was designed to support them in navigating their own unique path as they grow, explore, and discover who they are.
Additional mental health support was available through:
Jewish Family and Children's Services' Center for Children and Youth, a comprehensive resource offering mental health and support services as well as professional and community education.
Teen Talk App, a free app where teens can anonymously discuss their lives and concerns with trained peer counselors who help them address a variety of topics such as anxiety, depression, relationships, and school.
Mental Health First Aid for Teens, a training program that teaches high school students how to identify, understand, and respond to signs and symptoms of mental health or substance-use issues in their friends and peers.
Stepping up to help the Ukrainian Jewish community
The Federation, with our on-the-ground partners, has been there stewarding critical aid to help those in danger. The war in Ukraine has created one of this century's most significant humanitarian crises.
The generosity of our donors enabled us to provide humanitarian relief, Aliyah assistance, and support for resettlement in the Bay Area.
Numbers used are in partnership with JDC
of home health care were provided to Jews living in the former Soviet Union
Raisa Liebenson believed that she and her family would be safe when fighting broke out in her hometown of Donetsk, Ukraine. But when her apartment was destroyed by a mortar shell that rendered her temporarily deaf, she and her husband knew it was time to leave.
Together, they fled to Pavlograd where they received assistance from the Federation's partner, the American Jewish Joint Distribution Committee (JDC), and its network of Hesed* social welfare centers.
"Shell fragments were all over my bed. There was smoke in the apartment….it felt like something hot flew over me. I froze with fear. I could not realize how I would survive." 
The Liebensons are not alone. Thousands of other Jewish people who have escaped Ukraine—many of them young families and seniors—depend on the Federations to help them survive. With our partners, we provide shelter, help them pay rent, and provide essentials such as clothes, shoes, blankets, and a monthly stipend for food and medicine.
Though Raisa is not sure whether she and her husband will ever get back to their home in Donetsk, one thing is certain: No matter where they are, they will be able to count on the Federation's support.
*Hesed (also spelled chesed) is the Hebrew word for loving-kindness
Listen to 7 year-old Gemma share why her allowance went to the Federation's Ukraine Emergency Fund
Fostering equity in Israel
The Federation works closely with Israeli partners to advance a democratic and shared society with equal opportunity for all of Israel's citizens. By investing in partnerships, we aim to change the social infrastructure. That means working with diverse individuals representing all facets of Israeli society and developing relationships based on belonging, mutual commitment, and ownership of a shared future.
in equity-focused programs in Israel
through human needs grantees, including Tebeka and the Desert Stars Incubator for Bedouin Leadership
the social interconnection grantees
The Federation works with One Million Lobby, the first Israeli public lobby to advocate for a better social, economic, and cultural reality for the 1.2M Russian-speaking Israelis. Together, we provide solutions to absorb the wave of immigration. Since One Million Lobby's inception, they have promoted better Aliyah policies, strategic planning, and advocating and outreach for Aliyah absorption.
We also partner with Dror Israel, one of Israel's largest educational and social change organizations. Over 1,000 educators and activists reach over 100,000 Israelis each year through schools for at-risk youth, educational workshops, community projects, national social justice initiatives, and a youth movement.
Connecting people to community
professionals participated
in 473K Culture of Belonging workshops
were connected to a Jewish peer or group
in our Peer Connectors program
felt a deeper sense of connection
and belonging to Jewish life
"I am a Jewish and Black woman who once found it difficult to be comfortable in Jewish spaces. When I moved back to the Bay Area, I found the Fed Fellows program and discovered a Jewish group that shared my interest in business. I was paired with Jewish Gateways, which serves a diverse community of Jews and strives to reach people like myself, who aren't necessarily in Jewish spaces but are interested in learning. I was empowered to share my story with the board when prompted and suggested forming a Jewish buddy program.
This program enables people who are interested in joining events to be paired with someone to steward them and ease them into the community. The program would identify community members to be on the lookout for new faces and make a point to acknowledge them and check in with them based on their comfort level.
I am grateful to the board of Jewish Gateways who allowed me the space to share how something like this would have changed my perspective regarding participating in Jewish life. Community is such a powerful and vital network. If even one person finds belonging through this program, the long-term effects could be monumental and strengthen the community.
Through my involvement with the Fed Fellows program and Jewish Gateways, I have found a deeper sense of what I bring to Jewish spaces and a better understanding of how diverse Jews really are. I plan to continue 'going where I am needed' and showing up, proud to be a Black and Jewish woman."
– Juliana Wise, former Fed Fellow
The Federation's youth programs inspired leadership traits, developed skills in philanthropy, and equipped teens to create progressive change. One of the programs, the Jewish Teen Foundation, builds lifelong skills in philanthropy and social justice while boosting confidence, teaching effective communication, and promoting teamwork.
by 42 teens in support of refugees and formerly incarcerated individuals
felt more connected to their Jewish identity, values, and community and would recommend JTF to their friends
were proud of the work they
accomplished on the board
Amalya Salamo, who recently graduated from high school in the Bay Area, first heard about the Jewish Teen Foundation (JTF) from a family member who works within the community. As someone passionate about community service, Amalya was eager to apply, welcoming the opportunity to join a philanthropic education program that would allow her to participate in meaningful work among like-minded peers.
Through JTF, students become empowered, confident, and influential leaders who influence, affect, and drive change.
Participants attend board meetings that challenge their worldview by confronting complex issues while equipping them with the knowledge and confidence to create positive change.
Amalya's experience taught her leadership qualities, the importance of teamwork and cultivating relationships, and the basics of creating and running successful fundraisers.
Over the last three years, she has brought her dedication to three different populations–people experiencing homelessness, people affected by domestic abuse, and refugee communities. Amalya noted that, thanks to the resources she had gathered during the program, she could put her knowledge to work and connect a man experiencing homelessness to an organization that helped him find personal protective equipment and a place to stay.
Graduates of the program carry these skills into college and beyond, leveraging their experiences to build successful careers and take on leadership roles in their communities.
Creating impact through collaborative philanthropy
When donors are interested in innovative ways to give, such as specific issue areas or identity-based grantmaking, the Federation facilitates giving circles and impact investing as opportunities for people to pool funds and make collective decisions about the organizations they support.
Through the Jewish Pride Fund, a giving circle, members support the intersecting needs, values, and interests of the LGBTQ+ and Jewish communities in the Bay Area, nationally, and in Israel.
granted to 6 organizations in 2021
granted in the last 4 years
have joined since its inception
It's hard to know who is more profoundly impacted by the work of the Jewish Pride Fund (JPF)—its grantees or its members.
"This Fund has tapped into my passion for philanthropy more than any other group effort I've participated in," said Danny Wein, now entering his second year as JPF's chair.
This year, nearly half the Fund members had the opportunity to witness the work of their grantees in action, joining Danny on a JPF-sponsored trip to Israel.
JPF members come together regularly to consider grant applications to make sure that the grantees they select are aligned with their vision and mission to serve those living at the intersection of the Jewish and LGBTQ+ communities.
"We're constantly reminding our members that these are the values that are guiding our grant-making," Danny added, noting that while there are many worthy philanthropic efforts within the Jewish world, there are very few that address LGBTQ+ needs. JPF's mission is personal. And, more importantly, their impact is lifesaving.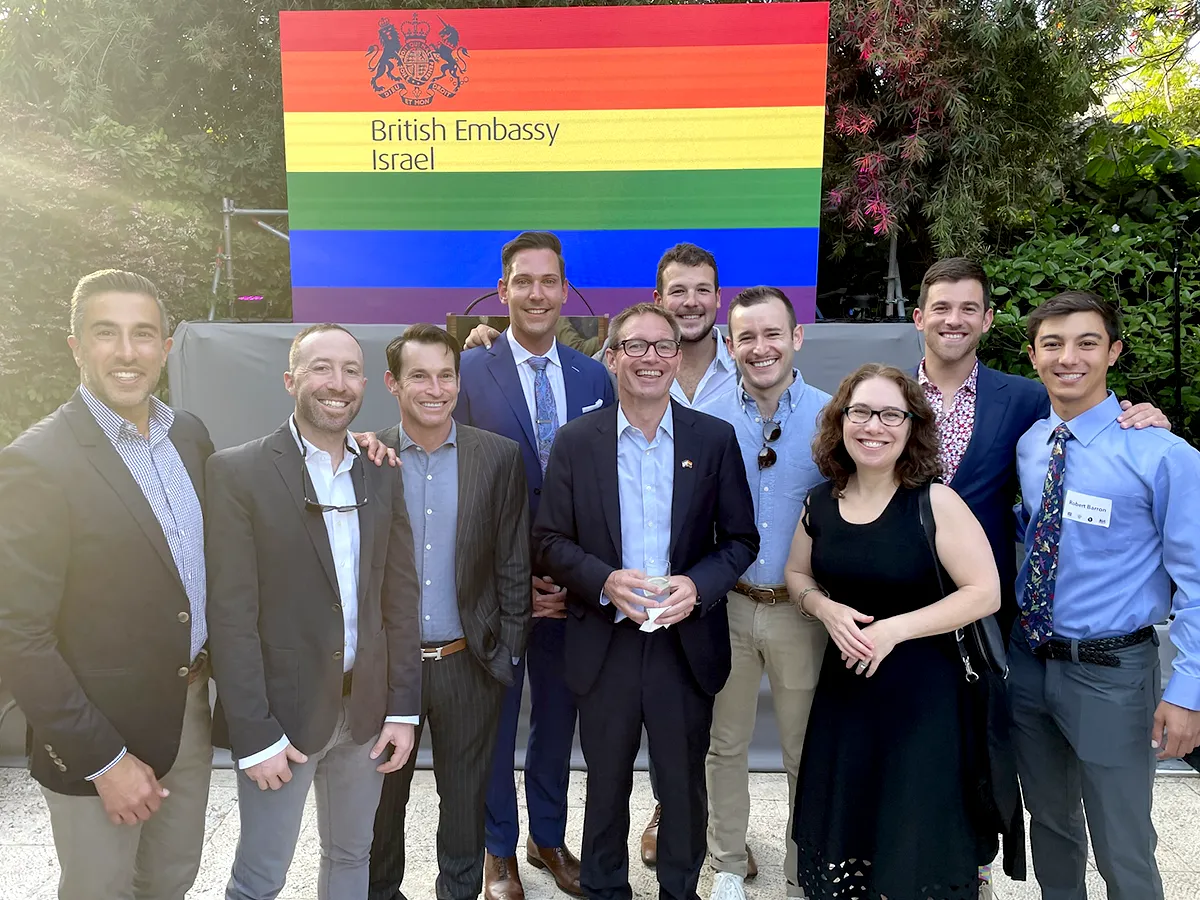 Putting philanthropic capital to work
Beyond grantmaking, impact lending is a philanthropic tool for Donor-Advised Funds and supporting foundations that addresses issues that our donors care deeply about, such as social and racial equity, economic opportunity, and poverty alleviation. It provides access to fair and affordable credit, an unmet need across all historically underrepresented populations—creating jobs, strengthening communities, and building wealth for disadvantaged individuals. We partner with financial institutions that loan out every dollar more than once, enabling them to attract increased capital and generate additional money for borrowers.
by 96 funds and supporting foundations
Since 1996, Tania Torres has been styling hair and building her business, Vanidad Beauty Salon, with a growing list of loyal repeat clients. Just before the pandemic, Tania reached out to Accion Opportunity Fund (AOF) for a loan to help build her credit and continue growing her business. AOF, one of the Federation's investment partners, provides affordable capital and business support that small business owners need to build their enterprises and contribute to thriving local economies.
Tania's AOF loan officer helped her secure a $2,500 loan backed by a federal savings account balance. The timing was auspicious. Complying with San Jose's shelter-in-place orders, she closed her salon from March through September 2020, and then from December through February 2021. With the loan, Tania was able to invest both time and money in improvements to her salon that would keep her clients safe, including an air filter, masks and health notifications to customers, and more in-depth sanitization of her work environment. The pandemic threatened her livelihood and the business she had worked so hard to establish after immigrating from Nicaragua. The AOF loan provided the financial lifeline to weather the pandemic.
"For me, owning this salon is a passion. As a business owner, you need to have a lot of faith. I thank God for every day—you don't know what is going to happen, what problems you're going to face. I would tell other business owners to have hope for the future. When you trust that something is coming for you, you will work hard for it."
– Tania Torres, owner of Vanidad Beauty Salon
Ann Peckenpaugh Becker

Valli Benesch

Andy Cheng

Barry Cohn

Dan Cohn

Marc Dollinger
David Friedkin
Steven Ganz
Jim Heeger
Fred Isaac
Michael Jacobs*
Kenny Kahn
Natasha Kehimkar
Moses Libitzky
Guy Miasnik*
Jessica Minkoff
Lindsey Newman
Dara Pincas*
Varda Rabin
Laura Rooklin
Eileen Ruby

Susan Saal

Susie Sorkin

Bob Tandler

Michelle Tandowsky

Jamie Weinstein

Jerry Yanowitz
EXECUTIVE LEADERSHIP TEAM
Chief Philanthropy Officer
Senior Director of Finance
and Controller